What is a grinder? And why should you use it?
What is a herb grinder? A grinder is a tool for grind the smoking consume. What is a grinder used for? You can use it to grind tobacco, herb spices, or cannabis. When you want to get a better smoking experience, you will not use your finger to crumb your tobacco or herb. Instead, you may like to use a utensil to make it more smokeable. This is why people created the grinder.
After more than 60 years of development, for meeting different customers' demands, there are now various grinders in the market. Today, in this article, you will learn many things about grinders, and most important is, you will know how to use a D&K's herb grinder. If you only want to see the instruction part, well, you can skip to the bottom.
What is a grinder made of?
Many materials can make a grinder. But mostly, below is the most common ones.
1. Zinc alloy:
Not to exaggerate speaking, 90% of metal grinder is made of zinc alloy. Because as an alloy, zinc alloy is cheap, solid, and easy to get rusty. But there are some limits. Grinder manufacturers can't make vivid special colors base on zinc alloy herb grinders. Also, it will be heavier than aluminum alloy, and the texture is also not as good as aluminum. However, cost-effective and durable, how can you complain?
2. Aluminum alloy
Aluminum alloy is an updated version of a metal grinder. Because it's light and smooth, and more color bright colors can make on the aluminum alloy grinder, so it gets more and more popular. High-end weed grinder brands like Santa Cruz, Chromium Crusher, Cali Crusher are made of aluminum alloy. So the pride will be much higher than the zinc alloy ones. But for the stoners who want to get a better smoking experience, it is worthy of having an aluminum alloy herb grinder in their collection.
3. Plastic
The plastic grinder is convenient for carrying out. Some of them are in small sizes. It's cheap, could as a disposable grinder when you travel around. Plastic weed grinder always in 2 parts, 3 parts, and few in 4 parts and 5 parts. Basically, due to the plastic material, D&K's herb grinders all in sharp teeth, otherwise it is hard to grind tobacco to an excellent status for rolling or vaporing.
4. Wood
There are two kinds of wooden herb grinders, a whole body of wood, a wood shell, and a metal grind layer. Because we use natural wood for grinder, so the grains of each grinder can't be the same. Sometimes the color of the wood is also quite different. The wooden grinder's market is in a small range, far away from the metal one and plastic one.
5. Biodegradable material
It's a trending material recently. More and more people start to concern about the environment, so they begin to use eco-friendly goods. First one that comes out of the biodegradable smoking accessory is RAW. They made their rolling machine biodegradable. And it is a good start, then smoking accessory manufacturers in China start to make other biodegradable products, include herb grinders.
Parts of grinder
1. Two parts
Two parts of the grinder are for easy temporary use. Typically, two sides of grind teeth, no storage part for keeping tobacco. It's easy to use and portable.
2. Three parts
Three parts of the grinder have an extra chamber to store the tobacco. It also has the pollen screen on the backside of the teeth, which could filter the tobacco to the next chamber. The grinder effect is better than two layers. It is a choice for many smokers.
3. Four parts
A grinder with four parts has an individual layer for pollen catcher. It will help you have the best consumption, so the four parts are the most popular ones.
4. Five parts
Five parts grinder has another chamber for storage. It looks like a big macs hamburger. But not many people choose it, four is totally enough.
Size of grinder
1. 30mm
30mm is the most portable one. It's tiny, light, and generally made of plastic, zinc alloy, aluminum sometimes. It can only grind for one-time smoke. If you are making yourself a blunt, it may probably need more than one-time grinding.
2.40mm serial
There are 40mm, 41mm, 43mm, and 45mm of 40 mm serial herb grinders. Thereinto, 40mm and 4 parts are the most popular ones. Size 40mm is also not big for a pocket.
3. 50mm
50mm also is a popular size. We've done the statistics; 40 mm 4 parts and 50mm 4 parts are the best-selling D&K's herb grinder items. Besides, the Amsterdam theme grinder is very hot.
4. 60mm
60mm is a size that you can grind the weed for more than one person. For a size over 60mm, we made the grinding handle for some items. It will help you to chew the tobacco evenly and to a satisfactory degree.
5. 80mm
This size grinder is for home use or party use. It's too big to take out. It's perfect for rolling blunt; we also made an item DK5902 with a slot, you can slide your rolling paper on the grinder.
The teeth types of grinder
Diamond teeth
Diamond teeth are the primary use of a grinder. 90% of D&K herb grinders are with diamond teeth. So do the weed grinders in the market because there is a constituent called kief in cannabis. And diamond teeth can grind the weed without destroying it. It can keep it in a good flavor.
Shark teeth
Shark teeth are popular in the earlier time. And the teeth are sharp, but as it can't make kief in perfect status, people will prefer to use a diamond tooth one instead. But in South America like Costa Rica, it still has a market.
Shapes of grinder
1. Round one
A round shape weed grinder is the most original grinder shape and also the classic one. All the other shape grinders are based on the round one, like the drum shape.
2. Drum shape
We made changes on the side of the grinder to make it looks more like a drum. It also makes it more cool and modern. Though the width part of the drum shape is 43mm, the internal size is the same as 40mm.
3. Fictional shape
The fictional shape weed grinder could be different. It could be like a pokemon go ball, skull king grinder, a bottle cap, bowling, a battery, a can, a grenade, a ladybug… You know we grinder manufacturers racked our brains for making fancy-style grinders for customers. But honestly, the round shape grinder rules all the time.
4. Card shape
Some brands came out of the card grinder. It is a metal card with grinder holes wrapped by a card slot. But it seems not convenient for keeping the extra tobacco, so not many people like to use it.
Craft of grinders
Don't see grinder looks not have many differences. There are many crafts to make a grinder.
1. Printing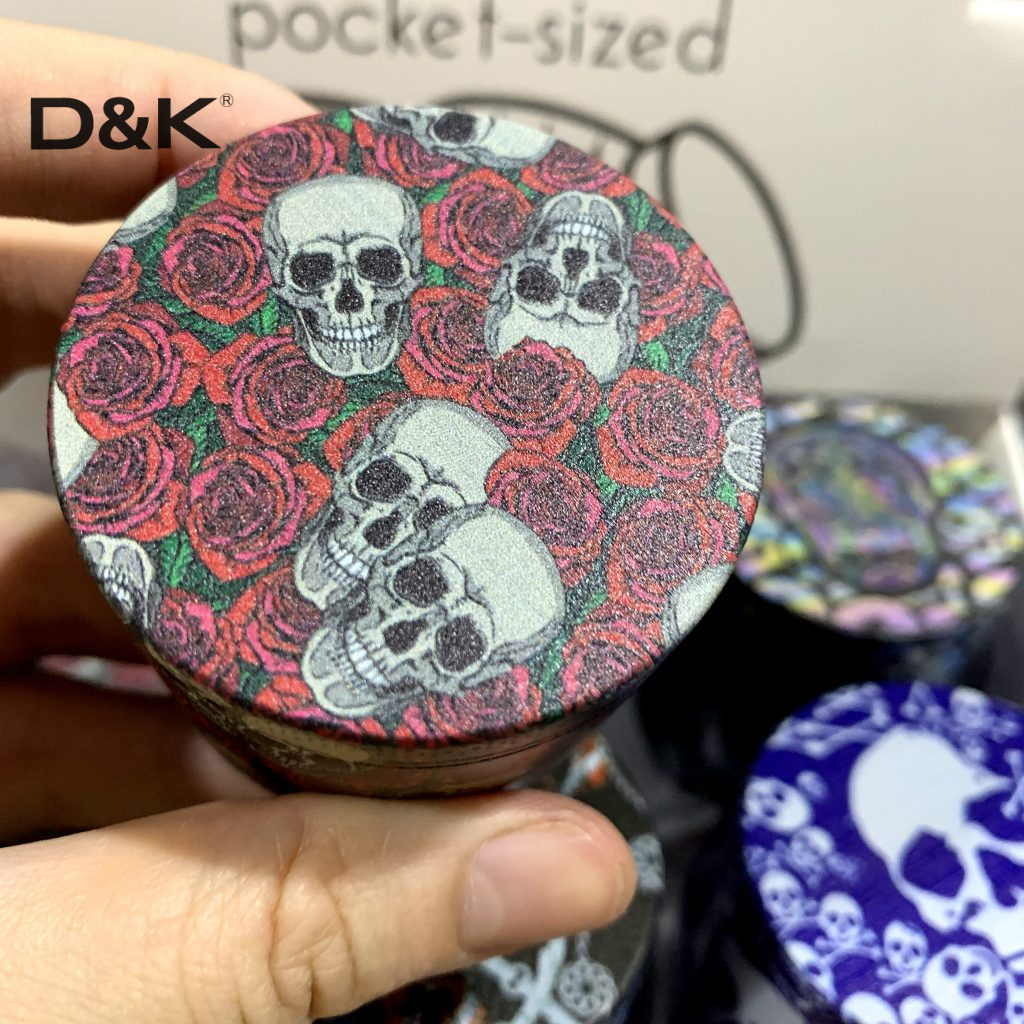 Printing could be on a single surface, on the whole body, and you can OEM the pattern you like on it.
2. Resin crystal
Some items will have a pattern on the bottom of the crystal, and we use glue to stick it on the grinder. It will make the design more shining, and some of the crystals are without any pattern on them; the cut will make it likes a bright diamond. DK5809C-3
3. Embossment
Embossment is another common use craft for herb grinders. There could be a big difference between embossment grinder mold. The cheap one does not feel good, and also the effect won't be satisfied. A good mold can make the pattern looks vivid, and the curve is very clear.
4. Spray paint
Spray paint can be one color or multiple colors. We have an item with pink rubber paint; it is very popular with girls. Suppose a grinder with various colors sprays. Then, there will be two or three processes of spraying to avoid a mix-up.
5. Electroplating
Electroplating is a process in which a metal film is attached to the surface of a metal by electrolysis. It can prevent corrosion, improve wear resistance, electrical conductivity, reflectivity, and enhance aesthetics. It will make the color more excellent. It is mainly used on zinc alloy herb grinders.
6. Sticker
The sticker could only stick on the surface or the bottom, and it also could be colorful as a printing effect. It is generally on the plastic grinders and especially on the 30mm grinder.
7. Laser
The laser can work only in white or silver color, but it can make a complex pattern, like mandala or logo printing.
How to use a herb grinder?
Step 1: Take off the top lid, put tobacco or anything you need to consume between the grinder's teeth.
Step 2: Close the lid. Because there are magnets in the center of the lid and the shred layer, it's pretty simple.
Step 3: Then you can use your right hand, for example, hold the grinder, and use your left hand to spin the top lid part about 10 to 12 times. You can put the grinder upside down for a better effect and rotate it until the tobacco is shredded enough.
Step 4: Open the second floor to find the fresh filtered tobacco or any other thing that you put into.
Step 5: Use the scraper to collect them. Put it into your pipe, rolling paper, or vaporizer.
Step 6: enjoy responsibly
How to clean your grinder?
Step 1: Take the grinder apart, each layer separately.
Step 2: Cover the grinder with alcohol. Put them into a ziplock bag, and pour the alcohol into the ziplock bag until it is totally over the grinder.
Step 3: Soak the grinder for half an hour, and then you can zip the bag, and shake the ziplock bag 10 times, and keep it still for a while. If your grinder is not very dirty, one round should be enough. And if it is still dirty, you can do it over again.
Step 4: Brush grinder with a toothbrush. Take out your grinder, use a toothbrush to clean the teeth, and the filter screen, each chamber, and each corner carefully.
Step 5: Wash your grinder with water. Make sure you flush the alcohol and the residue off.
Step 6: Dry your grinder. You can clean it with a totally clean and dry towel and put it under the sun for sterilization. Don't need to be too long. One hour is enough.
Step 7: Assemble your grinder, and you can use it again!
All the D&K Dengke herb grinder is FOR TOBACCO USE ONLY.